Another meatless Friday. I was looking through my previous posts and found this one -
Calzone Barese Olive and Ricotta
. It was from the cookbook,
La Cucina: Regional Cooking of Italy
.
Another submission for Cookbook Sundays!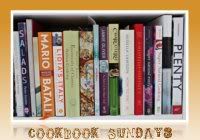 I had forgotten what a great crust this was. And I liked the idea of one big calzone. The filling is so flavorful. The olives and onions make a great sauce.
For the dough:
2 cups all purpose flour plus more if needed
2 1/2 tsp active dry yeas dissolved in 2 tbsp. warm water
Extra-virgin olive oil
For the filling:
1 medium onion, sliced
3/4 lb. ripe plum tomatoes, peeled and chopped
1/3 cup pitted and chopped black olives
4 oz. ricotta salata, passed through a sieve
Salt and pepper
Pour the flour onto a flat surface and work it together with the yeast mixture, a dash of salt and 1/4 cup of olive oil. Knead the dough, turning and folding it onto itself, until it becomes soft and elastic, adding water by the tablespoon as necessary - you my need to add as much as 3/4 cup. Then cover it with a clean kitchen towel and let it rise for about an hour.
Preheat the oven to 450˚F. Grease a baking dish.
In a sauce pan, heat 3 tablespoons olive oil and saute the onion until is almost transparent, then add the tomatoes. Cook the sauce down for a few minutes then add salt, pepper, and olives. Remove the pan from the heat and add the ricotta salata and mix well.
Roll the dough on a floured board into two sheets, one larger than the other. With the larger one line the greased pan. Pour in the sauce, spread it out, and cover with the other sheet, folding the edges over each other. Bake for approximately 20 minutes or until the top is golden.