Yeah again a crazy week. I love long weekends but fitting 5 days of work into 4 can be... not sure how to describe it. But the week is over and I can recap our dinners.
And as an added bonus I have an entry for
Cookbook Sundays
in this recap.
(Hint - it's Thursday's entry)
Tuesday - Chicken Noodle Soup
On Sunday I made a large pot of my
sister's Chicken Broth recipe
so obviously we had to have soup. The broth came out very good. (Food styling by Chris)
Wednesday - Vegetable Frittatta
Being Ash Wednesday I made a frittatta using the leftover vegetables and potatoes from our Whole Foods purchase this weekend. Perfect way to use any kind of leftovers.
Thursday - A Cookbook Sundays Entry! - Baked Macaroni with Eggplant
This was suppose to be our Ash Wednesday meal but last night I picked up my new car (!!!) so we needed something quick to heat up and the frittatta fit the bill.
But tonight we had Baked Macaroni with Eggplant. The recipe is from La Cucina. I have not cooked from there recently but the
Cookbook Sundays
blog had me going through my bookcase. Chris gave me this book for Christmas back in 2010 and I love it.
It was written by Giuliano Bugialli, The Italian Academy Of Cuisine - Rizzoli (2009).
Here is a description of the book from
Google
-
Fifty years ago, a group of Italian scholars gathered to discuss a problem: how to preserve traditional Italian cooking. They formed the Italian Academy of Cuisine to document classic recipes from every region. The academy's more than seven thousand associates spread out to villages everywhere, interviewing grandmothers and farmers at their stoves, transcribing their recipes—many of which had never been documented before. This is the culmination of that research, an astounding feat—2,000 recipes that represent the patrimony of Italian country cooking. Each recipe is labeled with its region of origin, and it's not just the ingredients
but also the techniques that change with the geography. Sprinkled throughout are historical recipes that provide fascinating views into the folk culture of the past. There are no fancy flourishes here, and no shortcuts; this is true salt-of-the-earth cooking. The book is an excellent everyday source for easily achievable recipes, with such simple dishes as White Bean and Escarole Soup, Polenta with Tomato Sauce, and Chicken with Lemon and Capers. For ease of use there are four different indexes. La Cucina is an essential reference for every cook's library.
The only change I made in this recipe was omitting the lardo. Still have not found that item in a store near me. Here is the recipe -
Ingredients
3 eggplants, cut in thin lengthwise strips
Extra-virgin olive oil
1 tbsp
lardo
, minced
(I have never seen this in a store...)
1 garlic clove, crushed
3/4 lb. fresh plum tomatoes, chopped and seeded
(I used canned San

Marzano

tomatoes)
3/4 lb. macaroni
rigatoni
2oz.
caciocavallo
, sliced
(I used Scamorza)
1 tbsp. unsalted butter
Salt
Method
Preheat the oven to 350˚F. Grease a baking dish. Put the eggplant slices in a colander, sprinkle with salt, and leave for 30 minutes to make them lose their bitter juice.
Heat 1/4 inch of olive oil in a pan. Rinse and dry the eggplant slices and fry them; set aside.
In a saucepan heat the
lardo
and 2 tablespoons olive oil and
saute
the onion and garlic; add the tomatoes and season with salt; cover and cook at low heat.
Cook the macaroni in salted boiling water; drain when
al
dente
.
In the baking dish arrange alternating layers of macaroni, tomato sauce, eggplant, and
caciocavallo
, continuing the layers until no ingredients are left. Place pats of butter across the surface and bake for 10 minutes.
Remove from pan and place
onto a serving dish and cut in wedges to serve.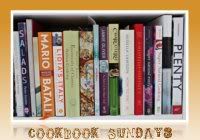 And finally Friday - The Simplest and Best Shrimp Dish
Wow what a crazy 4 days this has been. But I planned ahead for tonight. I took some shrimp out of the freezer this morning. At lunch I picked up some green beans and 2 potatoes that could be cooked in the microwave. Sorry but I had to do it to save time. But the shrimp is so easy and fast to prepare. The recipe is from the
Mark Bittman
. I have made this recipe so many times. Perfect for when you are running late or stuck in traffic.